Welcome to DemoPad Software, the innovative Graphical User Interface home automation / universal remote system for custom control of audio / visual equipment, lighting, heating, CCTV, gate automation and access control. Use our free PC design software DemoDesigner to create your personalised designs and custom control commands, without being tied to the CLOUD. No programming knowledge required!
DemoPad Automation & Control System Users:
HDL Automation Users:
DemoPad Cloud:
We've made a few changes recently to improve the experience, lower the costs and provide CLOUD services, but don't worry we're not moving to a CLOUD based "wizard" the DemoPad CLOUD is for storing project backups and making deployment easier by using QR codes and automatic updates. (See Support for more detail). Our Apps are also changing and for new DemoDesign projects you should use the CentroControl App instead of the old DemocontrolHD App. Unless you want to use an iPad 1 then continue to use the existing app DemoControlHD.

Try our DemoPad solution for FREE use the FREE Centro App and one device can be used FREE. (Additional devices trigger an In-App purchase UNLESS a Centro hardware product is used, then no In-App purchase is required even if you also use additional third party devices – a DEVICE is not an iPad or iPhone, DEVICE means an IP control device such as Global Cache etc.). There are no additional licenses required for iOS tablets and phones, use as many as you like.
Solution Overview:
The DemoPad Solution:
Now you can create an iPad / iPad Mini Universal Remote Control for your home theater!
Extensive support resources & software video tutorials available here
Online database of over 100,000 control codes
No limit to the number of zones / devices / pages
Sliders and Gesture swipe actions supported
Designer software is not cloud based - does not require an internet connection to work
Conditional logic with time of day, day of week based actions
Use any graphics files / layout you wish
Communicate with any IP device on your network, with customisable 2-way feedback engine
No device license charges - any app charge is per iTunes account
Become a Certified DemoPad Installer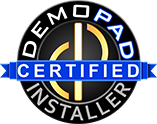 We provide the automation and control industry with powerful software tools to enable them to deliver automation projects to the highest standards. We have a Certified Installer accreditation programme, available to those professionals committed to delivering world class automation and control solutions with DemoPad. By completing the DemoPad training and accreditation process we are happy to recommend you to customers seeking professional assistance. To find out more, ask your local distributor or contact support@demopad.com for more information.



For HDL accredited installers wishing to use DemoDesign to add Audio Visual and Personalised GUI to their projects they should contact their local HDL distributor for more details and information on DemoPad training by HDL.
DemoPad Distributors Wanted
We are in the process of building our global network of value added distributors for both our software and hardware solutions, and are interested in hearing from in country distributors that specialize in the Home theater and/or the Pro AV market. Please contact infousa@demopad.com for further information
DemoPad Partners
The DemoPad solution communicates via wifi from your iPad / iPhone to anything with an IP address, to send commands, request feedback status etc. Anything can be controlled via Infra-Red / RS232 / Contact Closure (using an IP gateway)
You can also control anything which can be sent commands directly through your local area network, such as XBMC, Insteon, Z-Wave, KNX etc. Our installers around the world have interfaced with almost any manufacturer's equipment, including Sony, Panasonic, LG, Sharp, Epson, Onkyo, Yamaha, etc.
The list of compatible equipment is almost endless, however we have developed close ties with the following manufacturers / systems, so you can be sure of 100% compatibility & ease of use with DemoPad.