Welcome to DemoPad Software, home of the iPad Control app DemoControlHD - the innovative Graphical User Interface home automation / universal remote app for custom control of audio / visual equipment, CCTV, gate automation and access control for iPad / iPhone and iPod Touch devices. Our free PC design software DemoDesigner is used in conjunction with the DemoControlHD App available for download from the iTunes Store for just $99.99 USD (or FREE if using our CENTRO hardware). The solution is fully compatible with our hardware range, below:

NEW : CENTRO-C IP Control Gateway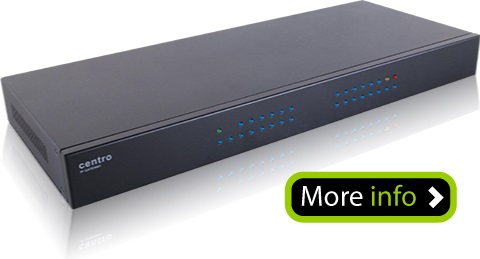 Key CENTRO-C Features:
Designed for Professional and Home / DIY users
Vast array of 50 individually addressable connectivity ports
FREE App and FREE Pro Graphics included for iOS and Android
Seamless integration with existing DemoPad software projects
Can also be used with any compatible 3rd party control system / app
CENTRO-C Connectivity Ports (click for more info) :

Latest News
CENTRO-8 Control and Automation Processor
DemoPad is proud to annouce the availability of our powerful automation and control processor. Click below to learn more....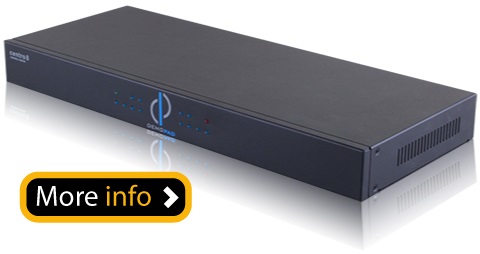 Key CENTRO-8 Features:
Designed for Professional Integrators
Astronomically-aware timer events
Seamless integration with existing DemoPad software projects
FREE App and FREE Pro Graphics included for iOS and Android
Advanced Conditional Logic driven events
Audio and HDMI outputs offer Digital Signage / Media player features
CENTRO-8 Connectivity Ports (click for more info):

The DemoPad Solution:
Now you can create an iPad / iPad Mini Universal Remote Control for your home theater!
Extensive support resources & software video tutorials available here
Online database of over 100,000 control codes
No limit to the number of zones / devices / pages
Sliders and Gesture swipe actions supported
Designer software is not cloud based - does not require an internet connection to work
Conditional logic with time of day, day of week based actions
Use any graphics files / layout you wish, or choose from one of our pro graphics sets at low cost
Communicate with any IP device on your network, with customisable 2-way feedback engine
No software / device license charges - app charge is per iTunes account
DemoPad Distributors Wanted
We are in the process of building our global network of value added distributors for both our software and hardware solutions, and are interested in hearing from in country distributors that specialize in the Home theater and/or the Pro AV market. Please contact infousa@demopad.com for further information
DemoPad Partners
The DemoPad solution communicates via wifi from your iPad / iPhone to anything with an IP address, to send commands, request feedback status etc. Anything can be controlled via Infra-Red / RS232 / Contact Closure (using an IP gateway)
You can also control anything which can be sent commands directly through your local area network, such as XBMC, Insteon, Z-Wave, KNX etc. Our installers around the world have interfaced with almost any manufacturer's equipment, including Sony, Panasonic, LG, Sharp, Epson, Onkyo, Yamaha, etc.
The list of compatible equipment is almost endless, however we have developed close ties with the following manufacturers / systems, so you can be sure of 100% compatibility & ease of use with DemoPad.